Dakota Layers achieves the "500 egg" milestone
How do you reach unprecedented egg laying performance? Jason Ramsdell from Dakota Layers chalks it up to good products, the right environment, a great team, and a love for your work.
It's a whole team effort to make sure the birds have the best quality of life along with clean, healthy feed and water to set them up for success.
Dakota Layers is a family-owned and operated egg farm, run by Jason and Tracy Ramsdell since 2015. While being relatively new to the egg business, Dakota Layers has carved out their place as an egg producer focused on supplying fresh, nutritious eggs to the community. The farm houses 1.3 million hens in nine housing facilities. Each house is outfitted with an automated belt system programmed to deliver fresh feed and water, collect eggs for processing, and remove manure for storage in a compost facility. All these innovations ensure that the eggs are collected and processed for optimal freshness.
 They are committed to housing their hens in a comfortable, modern environment to easily monitor the health of the birds and quality of the eggs. With this commitment to excellence, Dakota Layers is the first producer in North America to reach a production level of 500 eggs per hen housed over a period of 100 weeks, and we are pleased to recognize them for their inspiring example.
Can you give me some background on your journey of how you became an egg farmer?
I grew up in the Flandreau area, and my first introduction to agriculture was working with my grandfather and father for their fertilizer company. Up until my teenage years, I worked together with them in the family business. At around the same time, a group of farm families were looking for a new investment, and this led them to build an egg laying facility together, known as Dakota Layers. I graduated from college with a Bachelor of Science degree in Civil Engineering, and for a few years, worked for an environmental company while also sitting on the board of directors for Dakota Layers. By 2012, I was working for Dakota Layers full time using my engineering experience on a number of construction projects. In 2015, my family and I purchased the business and began our operations as a fully-fledged, family-run egg laying farm. My wife Tracy works with me and is responsible for logistics, marketing, and sales. Although we are relatively new to the egg business, I have deep roots in agriculture and am a 6th generation farmer.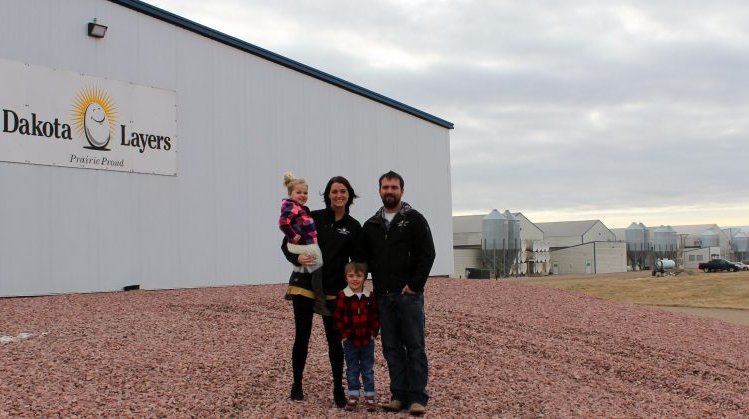 Technically-speaking, what do you credit as success-factors in achieving 500 eggs in 100 weeks? What do you think you do differently that makes you stand out?
It's hard to pinpoint a specific reason for our success, but I think there are a couple factors. First, the work that Hendrix Genetics invests in the product is evident. We are able to get a great start after placing the chicks, which really benefits us. Another reason is the benefit of having our own pullet facility, which was built in 2015. The barn is very clean and designed with modern technology so we can easily keep track of the birds' performance and health. 
We are also lucky to have a great team under our roof. Our pullet manager, Cody, does an excellent job with his team throughout the first pullet stage, and our production manager, Anne, runs our layer farm with a great crew. I would say everyone plays a part. Our electrician and maintenance crew ensures our fans are working to generate the best air quality, monitors the feed motors to guarantee the freshest feed for our hens, and ensures our lighting program is working properly.
We have a team in charge of waste management; they make sure the manure in the barns is removed on a consistent basis to maintain good air quality. We also employ barn walkers that regularly sweep the barns, check for mortality, and monitor the feed, water, and lights to make sure the birds are doing well. It's a whole team effort to make sure the birds have the best quality of life along with clean, healthy feed and water to set them up for success.
Do you keep all your flocks to 100 weeks? When did you start doing this? What was the decision-making process to keep the hens longer?
95 weeks is the standard for us. With this flock, we had the opportunity to extend the cycle, and it was clear they were doing very well as far as livability, high production, and good feed and water intake. As they got closer to 500 eggs at 100 weeks, it was exciting to see how healthy and happy these hens still were. We will continue to test extending their laying cycle longer to 95-97 weeks while keeping a close eye on the birds to see how they do. Our hope is to get to 100 weeks, but we will monitor the performance to make sure we implement this in the right way.
When did you start housing Shaver birds?
We've been using Shaver birds for about 10 years. We've recently added more birds because of how well they are producing and how healthy they are.
I see you are a member of the Midwest Foods Association. How has this membership helped with your business?
Dakota Layers had the opportunity to join MFA in 2009. It's been a great association to be a part of, especially being a younger company. There is a lot of knowledge in this close-knit group that they are happy to share. It's been a great group of people to be a part of. 
Dakota Layers seems to be very involved with giving back to the community and helping with hunger-based causes. Can you tell me more about how you got involved?
We became involved by seeing the need in the local area, not just in Flandreau, but also within the county and surrounding areas. Our largest city, Sioux Falls, is only 40 miles away, and is home to a hunger relief program called "Feeding South Dakota", which we regularly donate eggs to. This is only one of many organizations we are involved with by giving donations. In our role as farmers "feeding America", we're all helping to feed someone. This is, of course, a business, and we understand that, but we still want to give back to the less fortunate and be able to help out anybody that we can in the area.
What do you like most about working in the industry?
I really don't even consider this work, being in the egg industry. I'm having a lot of fun, being able to be a part of a great team with my employees and also being able to keep our birds healthy and producing to the best of their potential. It's also rewarding knowing that what I'm doing in my daily duties is providing food. What we do allows people to enjoy a healthy, high-quality protein with their family at a relatively low cost. I also know that the birds I'm raising are eating feed produced from local farmers' crops, which helps their farms as well. Everything is right there wrapped up in an eggshell, and it's as rewarding as can be. Like I said, I don't really consider it work; I'm having a lot of fun on a daily basis with everything I get to do.
Congratulations, Jason. We can't wait to see Dakota Layers continue to grow and thrive!